Hans Schmidt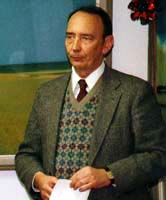 Hans Schmidt was an energetic and prolific German-American activist who for years steadfastly defended Germany's heritage, forthrightly countering lies and distortions of twentieth-century European history. He was also the author of several books. During World War Two he served as a soldier in the Waffen SS.
He was born and raised in Germany. As an 18-year-old he volunteered in 1944 for service in the famed Leibstandarte Adolf Hitler SS panzer division. During the war's final months he was engaged in the furious winter combat of the "Battle of the Bulge," in bloody fighting in Hungary, and finally in desperate battles in Austria. He ended the war as a twice-wounded corporal and squad leader.
After surrendering to US troops just two days before the end of fighting in Europe, he was held -- along with many tens of thousands of other German prisoners of war -- under brutal conditions in primitive stockades without shelter. Thanks to the kindness of individual American GIs, he was spared transfer to Soviet imprison*ment, or prolonged custody in US internment.
He soon migrated to the United States, where he built a successful life and became a naturalized US citizen.
In 1983 he founded the German-American National Political Action Committee (GANPAC), which was devoted to countering anti-German bias in the media. For years he ran GANPAC, first in southern California and then in Florida. He wrote and published two GANPAC newsletters, one in English (Ganpac Brief) and one in German (USA-Berichte).
In June 1985 the GANPAC office in Santa Monica, California, was set on fire. According to a report on terrorism issued by the federal Department of Energy, an anonymous caller stated that the Jewish Defense League, a Zionist terror group, had carried out the arson attack, apparently because of Schmidt's skepticism of familiar Holocaust claims
Schmidt was the author of several books, including SS Panzergrenadier: A True Story Of World War II (published in late 2001), Hitler Boys in America: Re-Education Exposed, and Jailed in Democratic Germany.
In his SS Panzergrenadier memoir he told why he volunteered, as a teenager, for military service during the final, desperate months of the war. Written from an unapologetically German point of view, he provided a frank, "politically incor*rect" explanation -- with a keen regard for American sensi*bilities -- of the appeal of the Third Reich regime, and the realities of the Hitler Youth and the Waffen SS.
In August 1995, the 68-year-old Schmidt was arrested in Frankfurt, Germany, during a visit to the land of his birth to meet with his elderly mother. He was charged with "popular incitement" ("Volksverhetzung") for remarks in his US-based newsletter and in a few private letters to individuals in Germany. State prosecutors cited his references to Jewish control of the media, to "Jew- and Freemason infested" German political parties, to derogatory references to German politicians, and to mention of "Holocaust tales." After five months in prison, he was released on bail in January 1996. Instead of appearing for trial, he returned immediately to the US.
Hans Schmidt died in early June 2010 in North Carolina, where he had been living for several years with his wife.
http://revisionists.com/revisionists/schmidt.html
Imagine the Furor!

(Hans Schmidt)

Imagine the organized world outcry. . . if, during World War II, the Germans had:
- executed 23,000 Polish officers, as the Soviets did at Katyn and elsewhere
- destroyed totally, without any military reason, and at the close of the Italian campaign, the city of Florence, killing 250,000 or more of its inhabitants, as the Allied Forces did at Dresden
- used - for the first time ever - nuclear bombs on cities, as the Americans did at Hiroshima and Nagasaki
- bombed into near oblivion one of the most revered shrines of Christendom, the 1,300-year-old abbey of Monte Cassino, as the US Air Force did, without a valid reason, in 1944
- herded hundreds of thousands of Americans, British and French POWs into open fields surrounded by barbed wire, and let them rot there for months without shelter and medical attention, and without sufficient food and water for most of them to survive, as the Western Allies did in 1945/46
- attacked only days before the war's end clearly marked hospital ships, killing thousands of people, as the British did in the Baltic Sea in May of 1945
- brutally raped in the occupied territories of Europe millions of helpless women and young girls, as mainly (but not only) the soldiers of the Red Army did in Germany in 1944-45
- kept Allied POWs for ten years after the war as slave laborers, as (mainly) the Soviets kept German POWs in Siberian camps and elsewhere
- destroyed every single British, French and American city of over 100,000 population through aerial bombardments, as did the Allies in Deutschland.
AND
- transformed Auschwitz and other labor camps after the war into alleged killing centers, invented (and erected replicas of) gas chambers, and pronounced without proof a death count of "six million Jews and five million others" of whom no mass graves or large ash deposits were ever found. . .
AND
- gave orders to the world neither to doubt nor to question these lies, under the threat of serious retribution!
http://www.zundelsite.org/english/ad...rrect.002.html