Seriously , Europeans have been famous for folk-dancing for centuries, then , in the 'newer' age Negroes come along and claim we can't dance ?
They sure are promoted by today's media , yet . .
Is it just or does it , when Negroes dance , almost always look like this?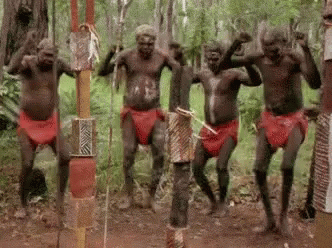 These guys have hijacked our culture. .
Just because they are promoted today. .
No wonder so many of our females jump into bed with groids today. .
The Zeitgeist is against us . .
I think maybe one of our attempts should be to restore the art of traditional European dancing . .
You know , Reel in the Anglo-Saxon world , Polka in Eastern Europe , Balalaika in Russia etc . .
Let's show the world we can dance . .
Let's put Europeans in the spotlight again . .
This fascination with , for example , "Dances around the world" today aims at multiculturalism . .
I might add that this is also true for Meso- , South-Americans . . . with their 'Mambo' . .
Practically ALL people are liked for being seen dancing today , except for Europeans. .
Europeans are portayed as being 'too stiff' for that. .
Or too 'devoid of temper' . .
TBH , I think 'dances' of other races , more or less , remind of animal rabidness . .
Europeans make dancing 'cool'
It's just another part of losing our culture . .
Let's show them the opposite . .