https://www.vox.com/2018/8/25/177787...ack-woman-guns
Quote:
A black woman in Selma, Alabama, says she shot and killed her abusive husband because he charged at her and she feared for her life.

Now she's facing a murder charge — despite living in a state with a "stand your ground" law in place, and despite a history of domestic violence, including a 2016 order of protection filed against her husband because he punched her in the face repeatedly.
There sure is a lot of trouble going on recently in 'da African-American community' . .
More and more blacks run amok . .
They get all the press , I might add . .
Coincidence ?
Or are they , by their very nature , more criminal than us ?
Anyway , this black broad sure has an interesting way justifying herself . .
Murder and mayhem in 'da African-American community' . .
When will they turn against Euro-Americans ?
They are already violent among themselves . .
Especially black females , I think , chimp out even more often than males . .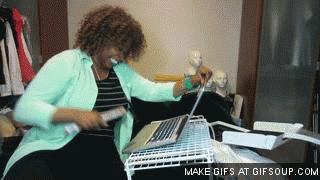 The black amazon . . A dangerous species . .
In secret they all probably wish to be Ma Bakers . .