Knut Hamsun and the Cause of Europe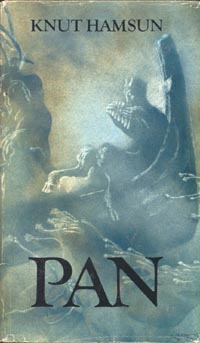 Free pdf download
"Hamsun expounded this philosophy in his first great novel Hunger, which attempted to show how the known territory of human consciousness could be expanded to achieve higher forms of creativity, and how through such a process the values of a society which Hamsun believed was increasingly sick and distorted could be redefined for the better. This theme was continued in his next book, Mysteries, and again in Pan, published in 1894, which was based upon Hamsun's own feeling of
pantheistic identification with the cosmos
and his conviction that the survival of Western man depended upon his re-establishing his ties with Nature and leading a more organic and wholesome way of life."
Free pdf download
Free pdf download
Krueger Horst

Soldat from 5th SS Division "Viking" Arild Hamsun (Arhild Hamsun) - son of the famous Norwegian writer and Nobel Prize winner Knut Hamsun - after being awarded the Iron Cross 2nd class. The Eastern Front, October 1943.
Knut Hamsun - always received birthday greetings from Rosenberg and Goebbels, and on the occasion of his 80th birthday from Hitler himself.
"Growth of the Soil reflected Hamsun's belief that only when Western man fully accepted that he was intimately bound up with Nature's eternal law would he be able to fulfill himself and stride towards a higher level of existence. At the root of this, Hamsun made clear, was the need to place the procreation of the race back at the center of his existence:
Generation to generation, breeding ever anew, and when you die the new stock goes on. That's the meaning of eternal life."
"The leaders of the new movement in Germany were also aware of the essential National Socialist spirit and worldview which underlay Hamsun's work, and he was much lauded, particularly by Joseph Goebbels and Alfred Rosenberg. Rosenberg paid tribute to Hamsun in his
The Myth of the Twentieth Century
, published in 1930, declaring that through a mysterious natural insight Knut Hamsun was able to describe the laws of the universe and of the Nordic soul like no other living artist. Growth of the Soil, he declared, was "the great present-day epic of the Nordic will in its eternal, primordial form."
"In 1916 Hamsun began work on what became his greatest and most idealistic novel, Growth of the Soil, which won the Nobel Prize for Literature in 1921."

Free pdf download
"This was brought home most clearly after the official announcement of Hitler's death, when, with the German Army in Norway packing up and preparing to leave, Hamsun wrote a necrology for Hitler which was published in a leading newspaper:
Adolf Hitler: I am not worthy to speak his name out loud. Nor do his life and his deeds warrant any kind of sentimental discussion. He was a warrior, a warrior for mankind, and a prophet of the gospel for all nations. He was a reforming nature of the highest order, and his fate was to arise in a time of unparalleled barbarism, which finally felled him. Thus might the average western European regard Adolf Hitler. We, his closest supporters, now bow our heads at his death."